Winter travel requires taking the utmost safety measures and preparation before heading out. Always have winter tires, an emergency kit, check road conditions at DriveBC, and follow the Leave No Trace principles and 10 Essentials, all found on our Responsible Travel page. 
If the hustle and bustle of resort towns and long lift lines don't appeal to your adventure style, we feel you. In BC's Land of Hidden Waters, we know winter, and now more than ever, we want you to find a new adventure in your backyard. From frozen waterfalls to ice fishing, cross-country skiing and snowshoeing trails to skating on the pond in front of your log cabin, we have the most winter adventures for non-skiers around. 
We are BC's best-kept freshwater secrets, and what happens to those waters in the winter? Exactly. 
Slow adventure and relaxing time in a cottage are what we know best, so here are our top ways to enjoy winter outside of the ski resorts:
HIKING AMONGST FROZEN WATERFALLS
If you could picture a Narnia-like wonderland in Canada, Wells Gray Provincial Park in the winter is it. With 41 named waterfalls and counting, each one takes a different shape when it comes to winter, and this is best seen on a self-guided winter waterfall tour. Nowhere else in western Canada can compare to the number of dramatic and ice-defying frozen and unfrozen waterfalls that are easily accessed by a short hike or snowshoe in. (We recommend bringing a pair of snowshoes as the snow can get deep.) A few of our favourite winter waterfalls include Spahat's Falls (and snowshoeing the Spahat's Forest Loop), Triple Decker Falls, Dawson Falls, and Helmcken Falls. Be sure to check for updated waterfall access as BC Parks may be opening up new winter access for 2020/2021.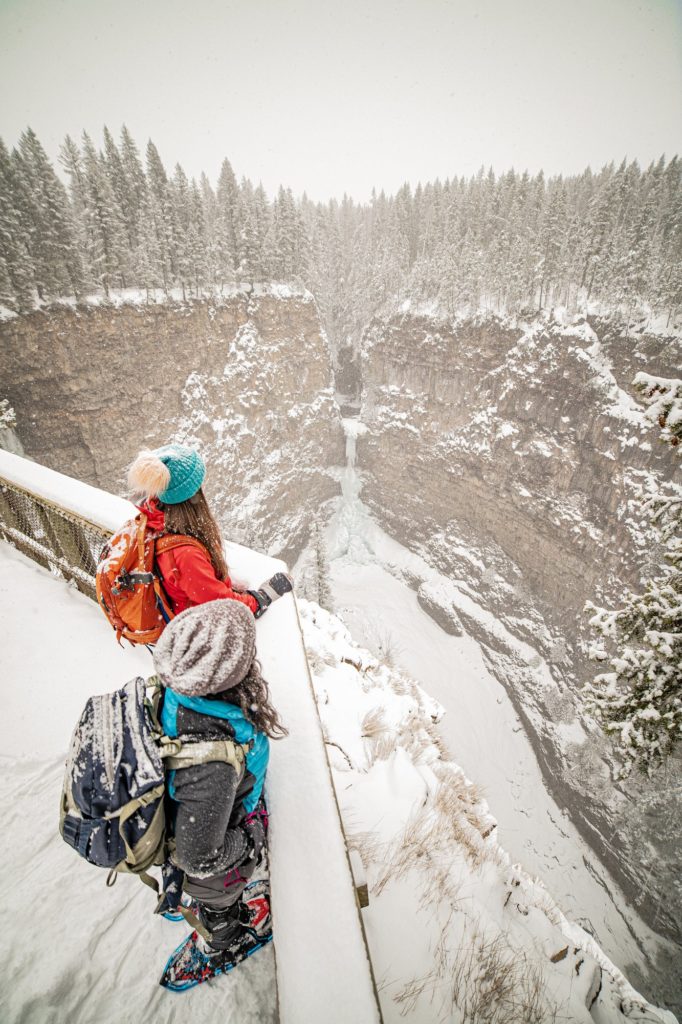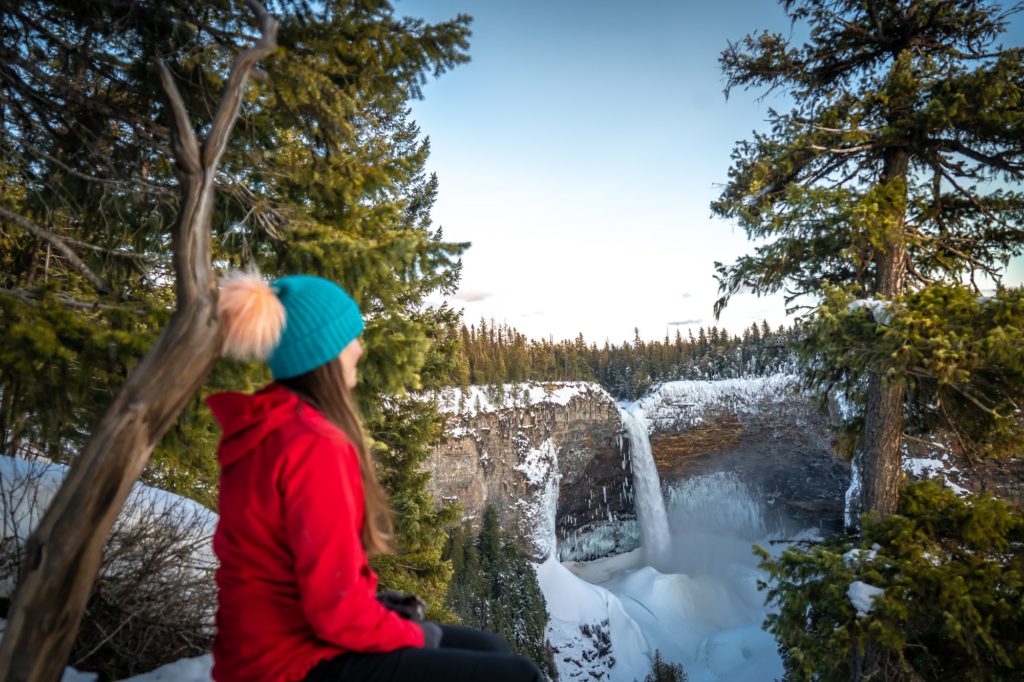 Wells Gray Provincial Park and the nearby town of Clearwater also have other winter activities such as skating and skiing (downhill and cross-country). 
Cozy cabins out here: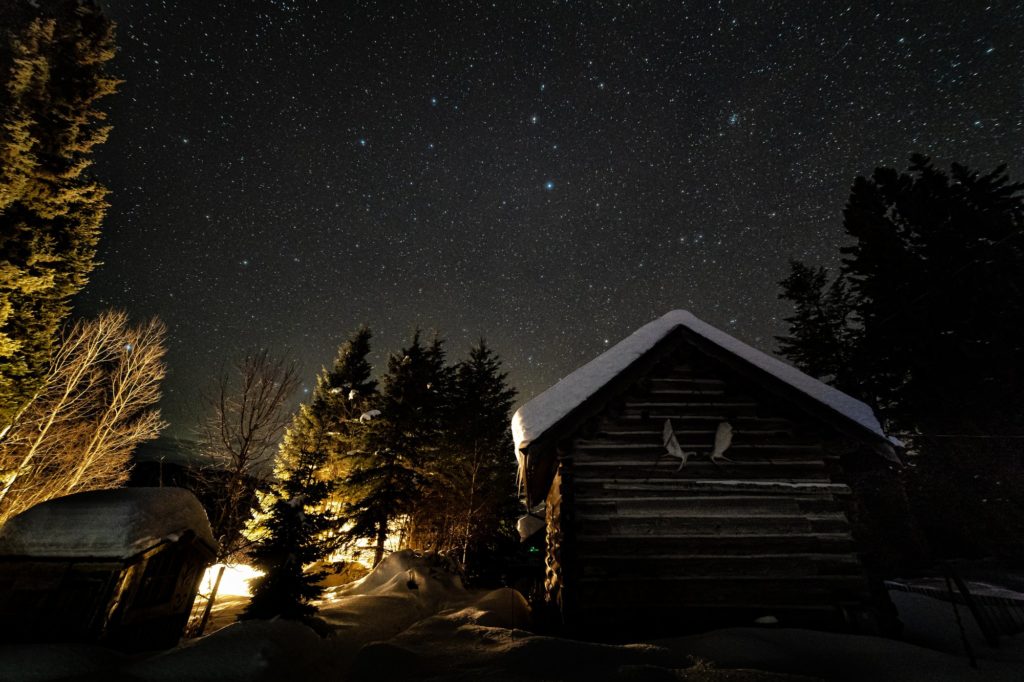 ICE FISHING & SKATING 
With a name like 'Land of Hidden Waters', you're probably expecting a lot of lakes – well you're in luck! Around Kamloops and on BC's famous Fishing Highway 24, countless lakes and accompanying lakeside cottages complement the area and provide endless fun for families, friends, or romantic couple getaways. 
Try your luck on a guided ice fishing trip on the Fishing Highway in BC's Cariboo region with Lone Butte Fishing Adventures or in the Lower North Thompson and Kamloops areas with Elevated Fishing Adventures. If successful, your guide will fry your fish up fresh right there on the ice! Bring a few adult beverages, some Baileys for the hot cocoa, and enjoy a day out on the lake. 
With plenty of lakes comes plenty of places to try your hand at pond hockey! Possibly the most quintessentially Canadian activity out there, most lakeside cabins have their own skating rink just steps from your cottage door. 
Cozy cabins to choose from out here: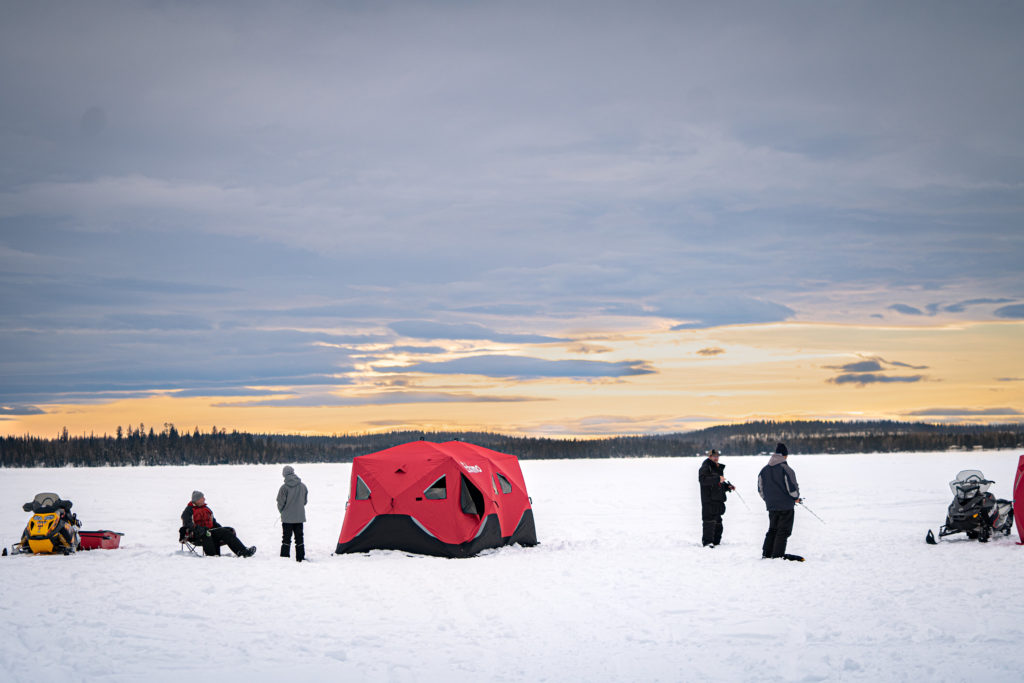 CROSS-COUNTRY SKIING, SNOWSHOEING, & TUBING
Gliding along at your own pace helps put the winter beauty of British Columbia into perspective. Cross-country skiing is an easy and accessible sport that allows you to explore trails that are track-set using a machine. By having divets carved through the snow, this allows cross-country skiers to easily maneuver at their own pace.
If you've never tried the sport before, we have a few great options each different from the next. In the Cariboo and Fishing Highway corridor is 100 Mile Nordics. This facility caters solely to cross-country skiing and snowshoeing and has a new LED light system that lights up the trails at night so you can take advantage of other winter activities during the day (like ice fishing!), and ski by night.
If you haven't filled your Wells Gray itinerary with enough waterfalls to occupy your time, there are ample cross-country skiing and snowshoeing options to see even more mountainscapes and giant cedars from.
Known mainly for its downhill skiing, Sun Peaks Resort near Kamloops also offers cross-country skiing and snowshoeing while Kamloops' closest mountain, Harper Mountain, offers its own unique map of trails and rentals. DYK snowshoeing and cross-country skiing info can also be found with Tourism Kamloops' snowshoeing guide, cross-country ski guide, and on Hike Kamloops.
Harper Mountain is an affordable community ski hill that we also recommend spending a whole day at. After a leisurely cross-country ski, ramp up the energy levels with the thrilling tube park! And for those still looking for downhill skiing, Harper Mountain and Mt. Timothy near 100 Mile Nordics are great options for affordable family skiing.
Be sure to check out our regional map for more info and plan your winter road trip!