There's nothing quite like lake life and if you've been to BC's Land of Hidden Waters before, you'll know that we live and breathe lake culture. From tiny, glacier-fed waterholes, to immense almost ocean-like freshwater gems, we have hundreds of lakes to choose from. A vacation here promises endless opportunities to paddle, swim, boat, fish, and just cool down and disconnect from the hustle and bustle of everyday life.
Determined to make them not quite as hidden, here are 12 of our favourite lakes in BC's Land of Hidden Waters.
FISHING HIGHWAY 24 & THE SOUTH CARIBOO
1. Canim Lake
As one of the larger Cariboo Lakes at 37 km (23 mi) long, Canim Lake offers that fun-filled lake culture you've been looking for. Along with paddling, swimming, and exceptional fly-fishing, you can enjoy activities like speed boating, waterskiing, and tubing. For a more relaxed day in the sun, rent a pontoon from one of the lake's resorts. If you'd like to keep your feet on land, there are lots of hiking and horseback riding opportunities. From the south side of the lake, you can hike to the spectacular Canim Falls.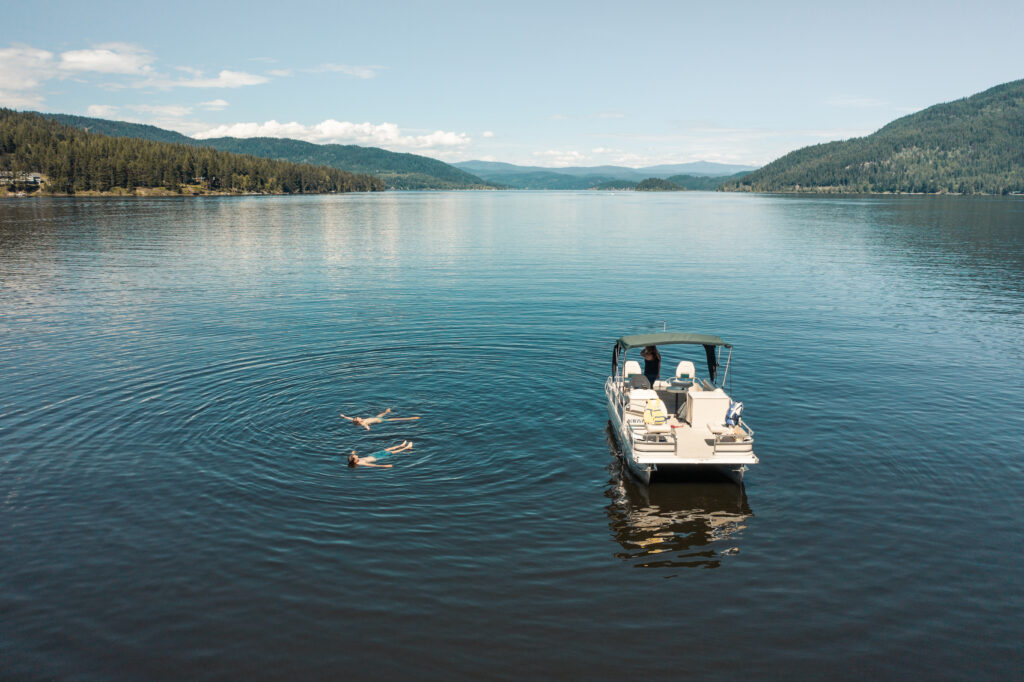 Places to Stay On the Lake: South Point Resort, Rainbow Resort, Canim Lake Resort, Reynolds Resort
Places to Stay Nearby: Kayanara Resort, Ruth Lake Lodge & Resort (on its own lake)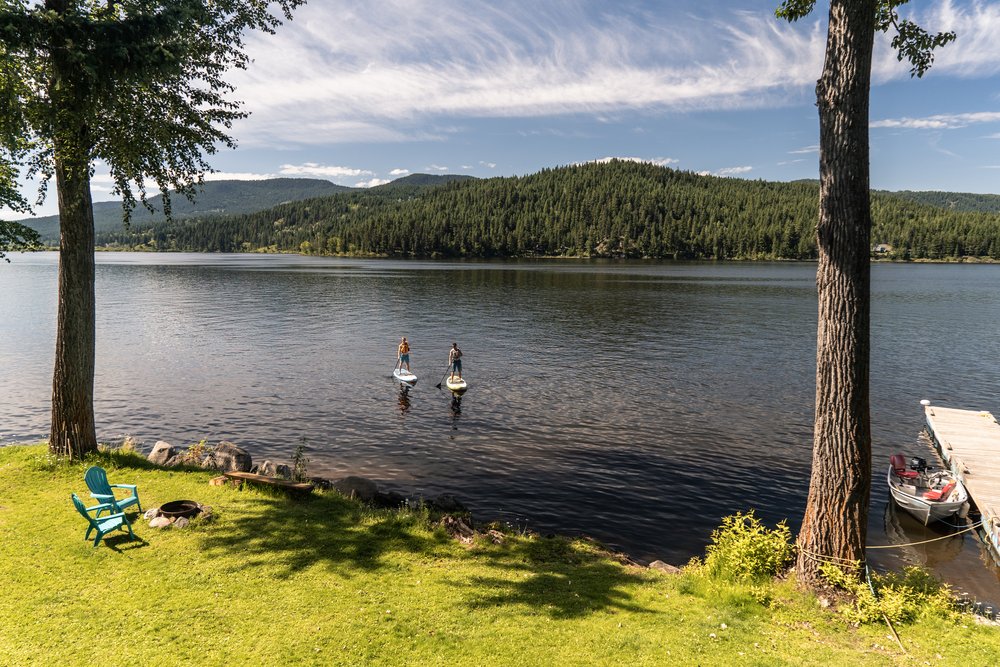 2. Sheridan Lake
Well known for its exceptional lake and flyfishing, Sheridan Lake is an angler's dream with many cases of people catching Rainbow Trout reaching over 20 lbs! For those not interested in fishing, Sheridan Lake also offers terrific boating, swimming, and paddling opportunities. The lake has many small islands which provide adventures of their own. Not only this but the lake offers over 208 km (130 mi) of mapped and signed trails for hiking, mountain biking and horseback riding.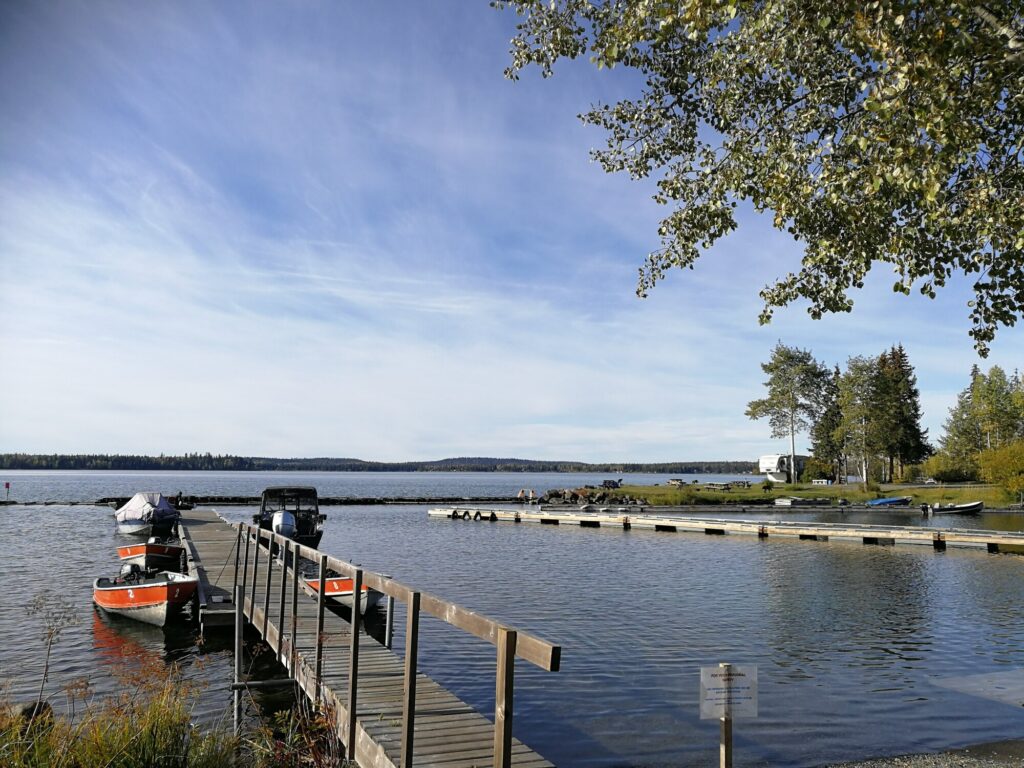 Places to Stay On the Lake: Loon Bay Resort, Sheridan Lake Resort, Piney Point Resort
Places to Stay Nearby: Sheridan Lake Motel, Fawn Lake Resort (on its own lake)
3. Green Lake
As you can probably guess, Green Lake gets its name from its shimmering green colouration. A large lake at about 14 km (8.7 mi) long and 1.5 km (0.93 mi) in width, Green Lake is a staple part of the Cariboo landscape. Its surrounding scenery features open rangeland, mixed forests of aspen and lodgepole pine, and various guest ranches. Here, you can enjoy camping, boating, swimming, and paddling, and many visitors enjoy taking the scenic drive around its shores.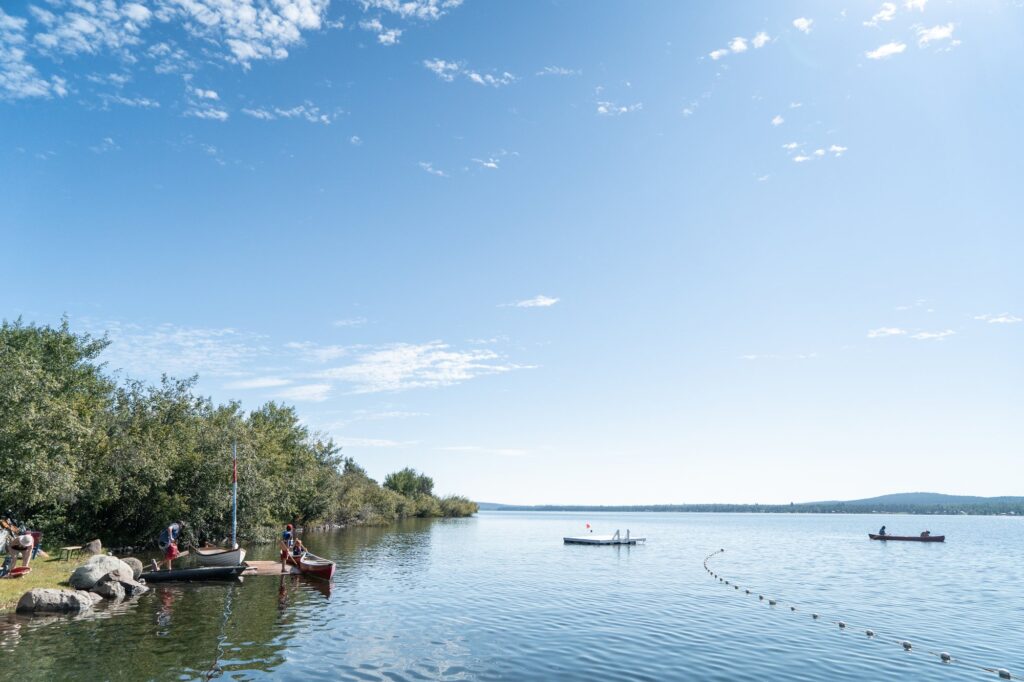 Places to Stay On the Lake: Flying U Ranch
Places to Stay Nearby: Watch Lake Lodge (on its own lake), Tall Timbers Resort (on its own lake)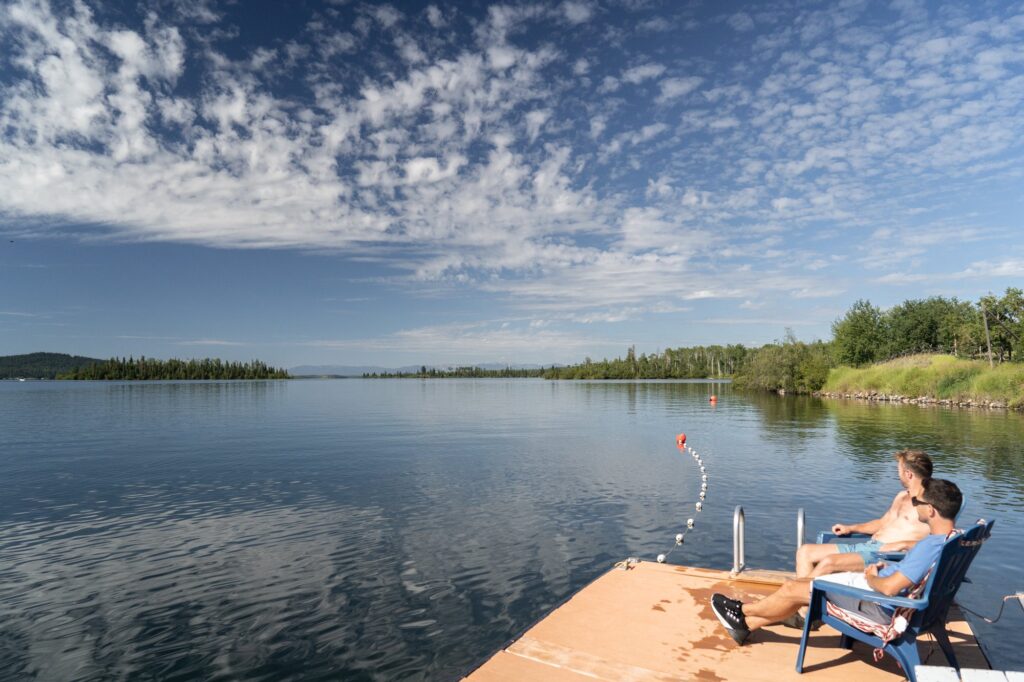 4. Loon Lake
Loon Lake is a narrow lake nestled between the Bonaparte Plateau and Arrowstone hills just a short drive after Cache Creek. Along with beautiful views, Loon Lake has incredible fishing that keeps young and old fisherpeople coming back year after year. The forested hills offer hiking, walking and bird watching and besides fishing, the clear lake is excellent for canoeing and kayaking.
Places to Stay On the Lake: Evergreen Fishing Resort, Marigold Fishing Resort, Cabins on the Lake Resort
Places to Stay Nearby: Campbell Hills Guest Ranch, Cariboo Lodge, Nomad Motel, Round Up Motel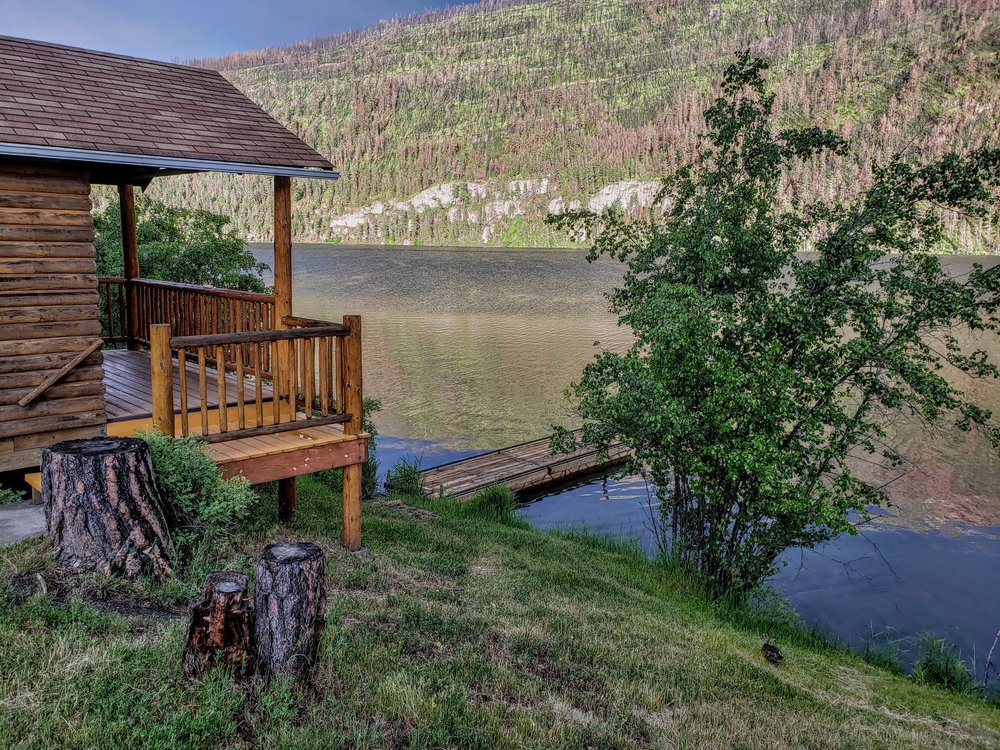 5. Bridge Lake
This year-round destination was once situated on the historic Fur Brigade Trail, dating back to the early pioneer days when fur traders travelled by waterways and overland trails. After the construction of the Cariboo Waggon Road during the 1860s, this trail was no longer used and instead Bridge Lake became a beautiful vacation town. With 27 small islands scattered within the lake, spend your time exploring and fishing. If you'd like a break from the water, be sure to visit the Bridge Lake Ice Caves Interpretive Trail, a fascinating display of the Indigenous history of the area.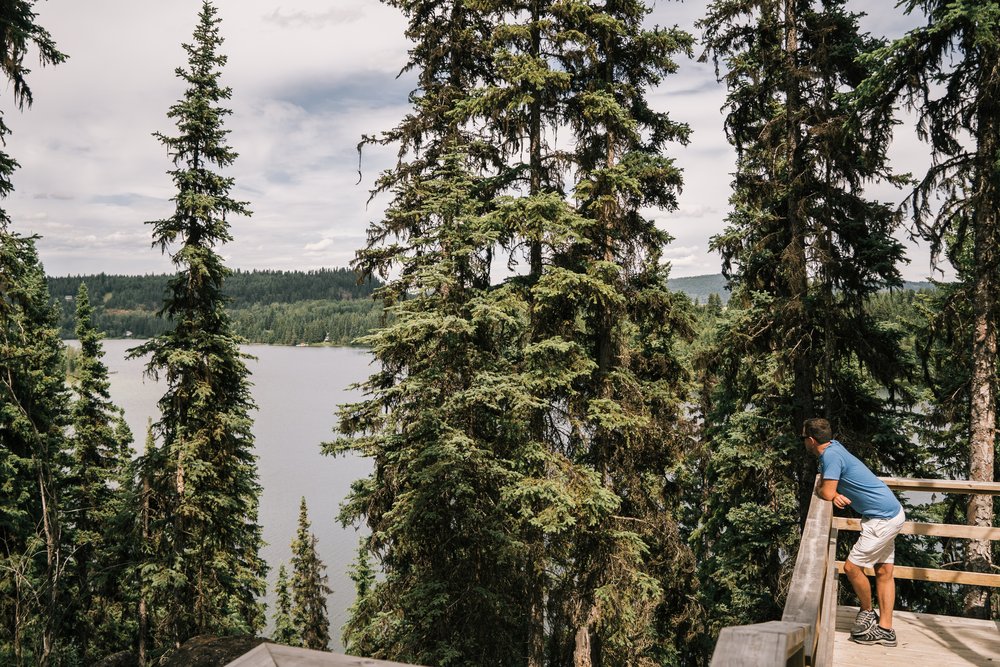 Places to Stay On the Lake: Cottonwood Bay Resort
Places to Stay Nearby: Little Black Bear Lodge B&B (overlooks Bridge Lake), Lucky Strike Resort (on its own lake), Wettstone Guest Ranch (on its own lake), Rainbow Spirit Retreat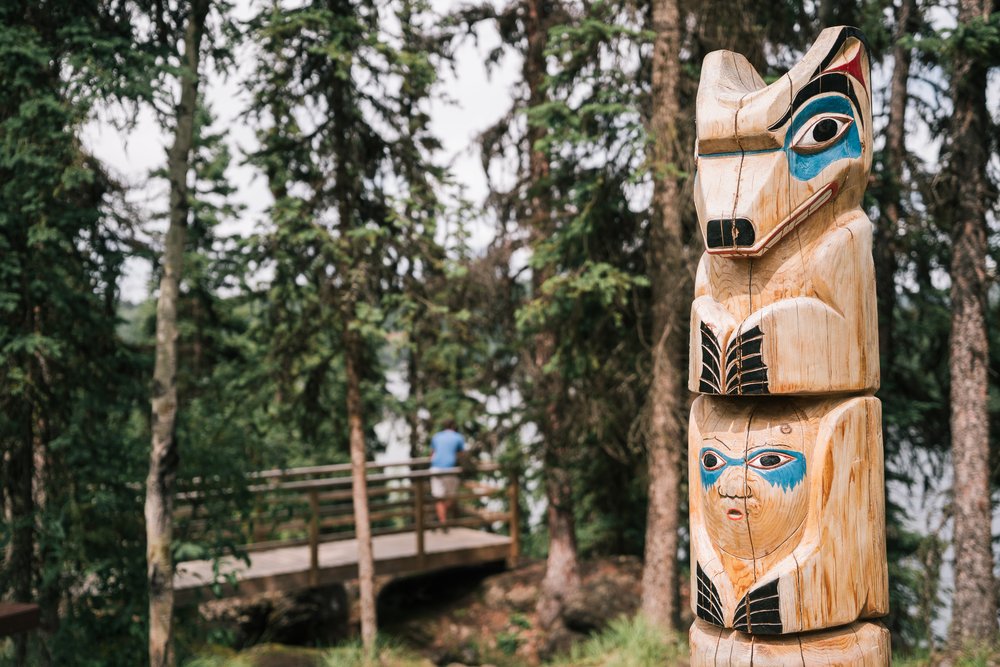 6. Lac des Roches
Surrounded by mountains and towering pine forests, visitors love Lac des Roches for its wilderness feel, abundant wildlife-viewing, and gorgeous scenery. Despite there being a few different resorts around the lake, they each feel very secluded and peaceful. Along with partaking in recreational activities and lakeside relaxing, a visitor favourite is stopping at the Lac des Roches Rest Area, a spectacular lookout just off Fishing Highway 24 that features picnic tables and epic views of the lake and surrounding hills.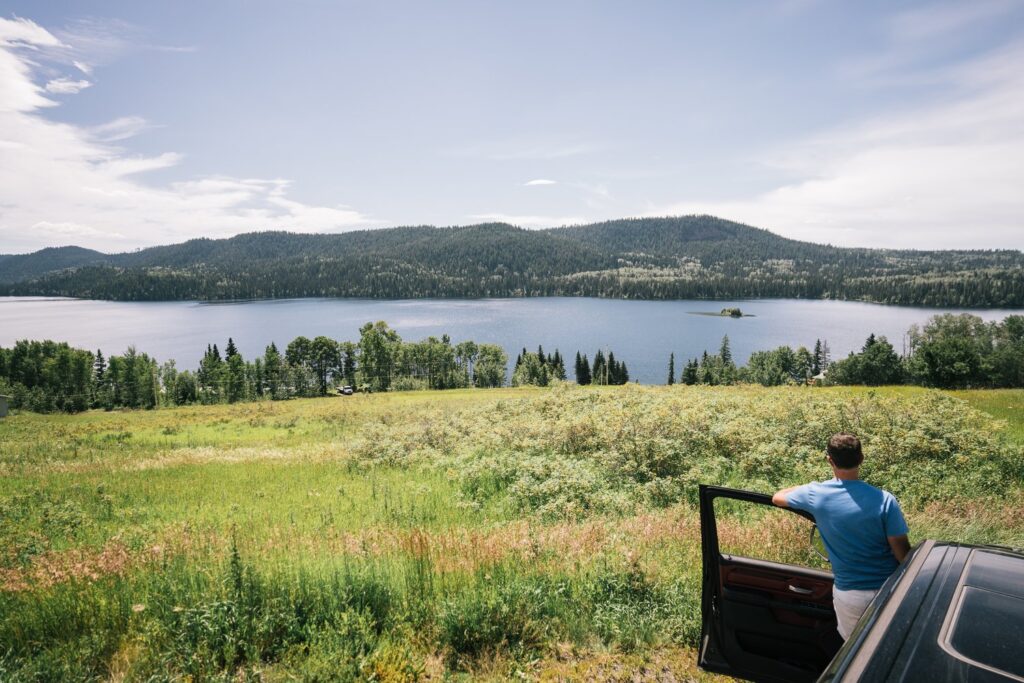 Places to Stay On the Lake: Eagle Island Resort, Lakeside Bed & Breakfast, Lac Des Roches Resort, Peaceful Cove Resort
Places to Stay Nearby: Opax Mountain Resort & Birch Lake Fish Camp (on its own lake)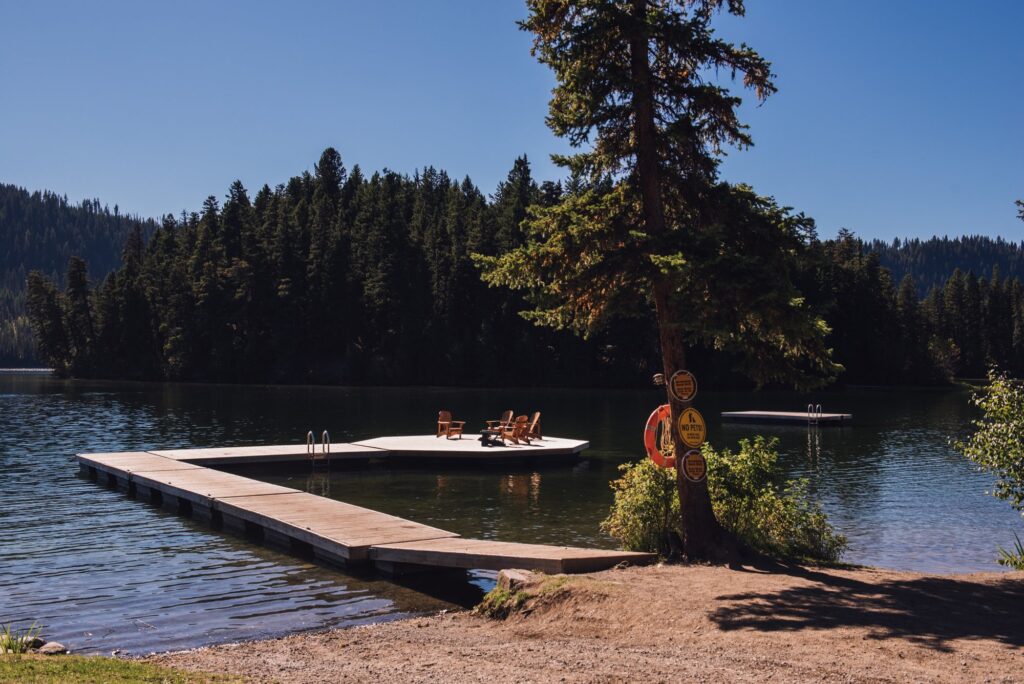 7. Deka Lake, Hathaway Lake & Sulphurous Lake
Located in what is called the Interlakes area (for obvious reasons!), Deka Lake, Hathaway Lake, and Sulphurous Lake are three of many lakes all within just a small radius of one another. Deka is the largest of the three at 14 km (8.7 mi) long and it boasts gorgeous clear water, ample surrounding trails, and excellent Rainbow Trout and Kokanee fishing. With so many lakes to choose from out here, you'll never be short of lakefront accommodations perfect for a family or couple getaway.
Places to Stay On and Around these Lakes: Sulphurous Lake Resort, CozyGuestHouse, Beaver Guest Ranch, Moosehaven Resort, Hathaway Lake Resort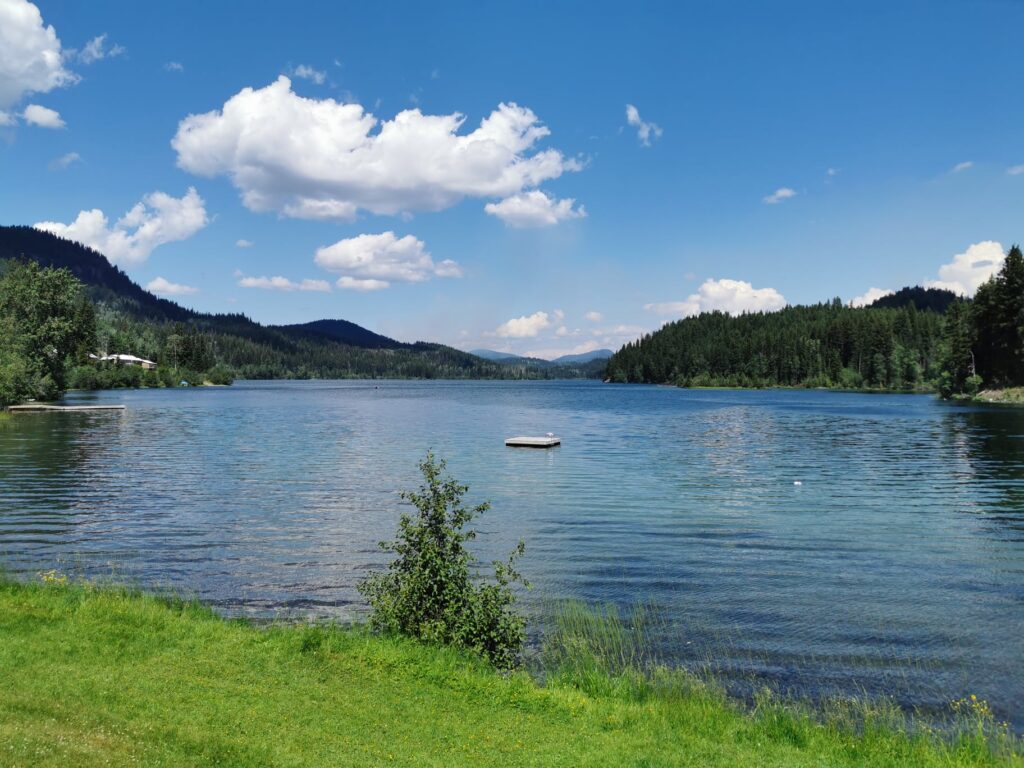 CLEARWATER & WELLS GRAY PROVINCIAL PARK
8. Clearwater and Azure Lakes
By far the most remote of all the lakes on this list, Clearwater and Azure Lakes is located deep in the wilderness of Wells Gray Provincial Park at the very end of Clearwater Valley Road. Surrounded by rugged mountains, sandy beaches, and unnamed waterfalls, Clearwater and Azure Lakes live up to the wild and untamed Canadian ideal. Experienced adventurers can plan multi-day canoe and camping trips, however, as there is no cell service and very limited facilities, we highly recommend booking a day trip, water taxi, rental, or lodging experience with Clearwater Lake Tours.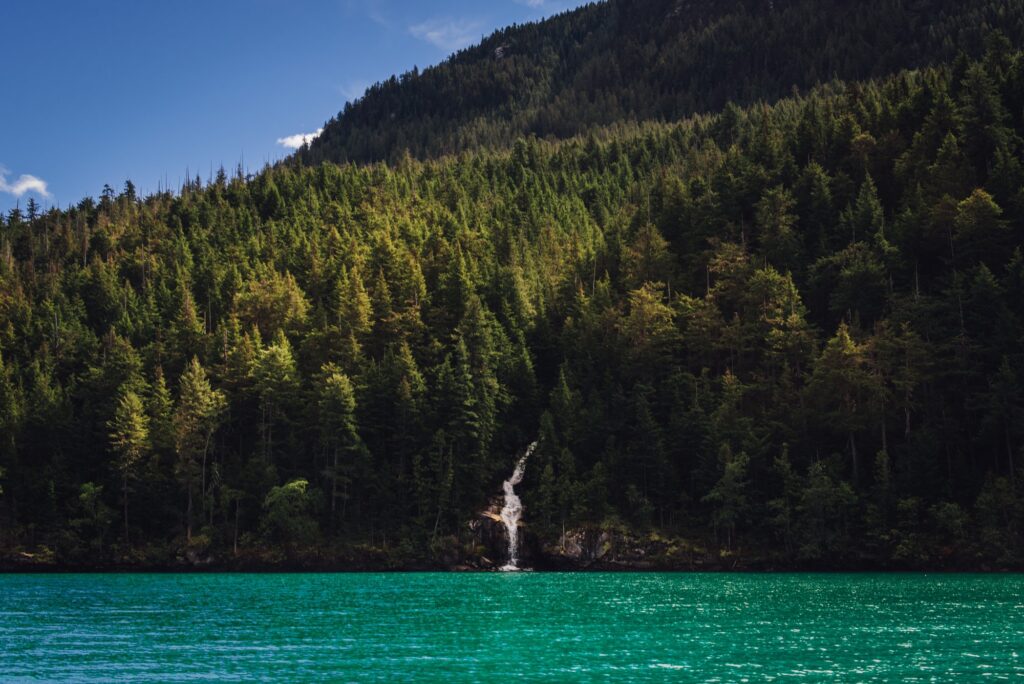 Places to Stay Nearby: Moul Creek Lodge B&B, Across the Creek Cabins, Wells Gray Guest Ranch, Camping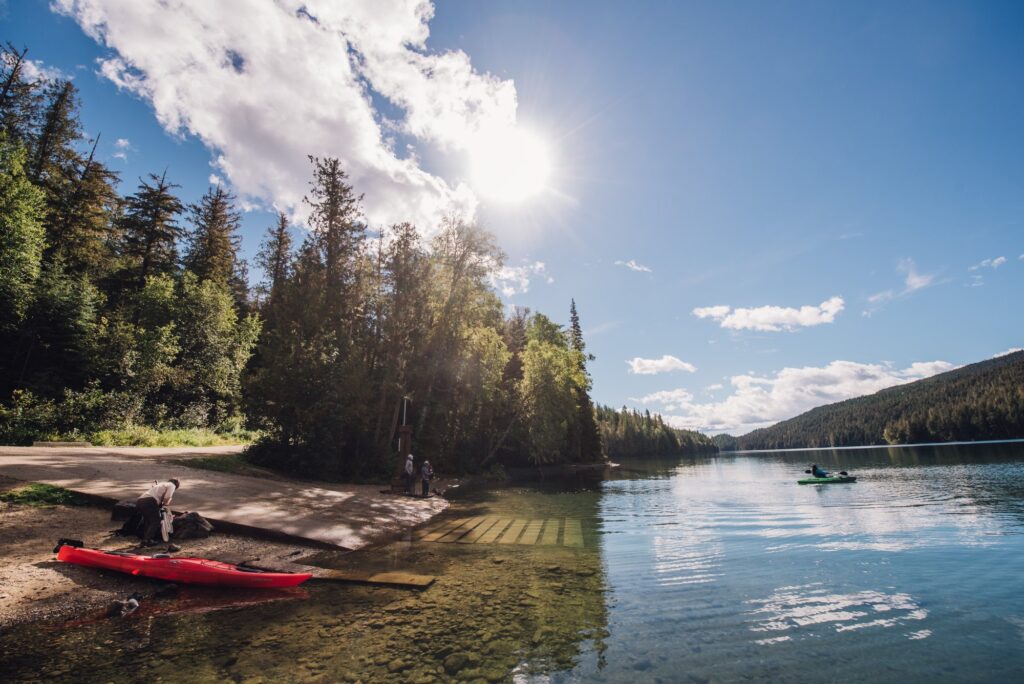 9. Dutch Lake
Surrounded by the vast forests and mountains of Wells Gray Provincial Park, Dutch Lake seems as though it is deep in the wilderness despite being only minutes from the small, quaint town of Clearwater. With a small beach area complete with a playpark, dock, and washroom facilities, Dutch Lake is perfect for a family getaway. Please note, however, that the one beach area can get crowded and so it is advised to book a stay at one of the lakefront cabin and RV resorts. Some unique features of Dutch Lake are its flowering water lilies that line the shores as well as its resident-painted turtles you might see swimming around! In the fall, the lake is also home to spawning salmon that you can often see even right from the dock!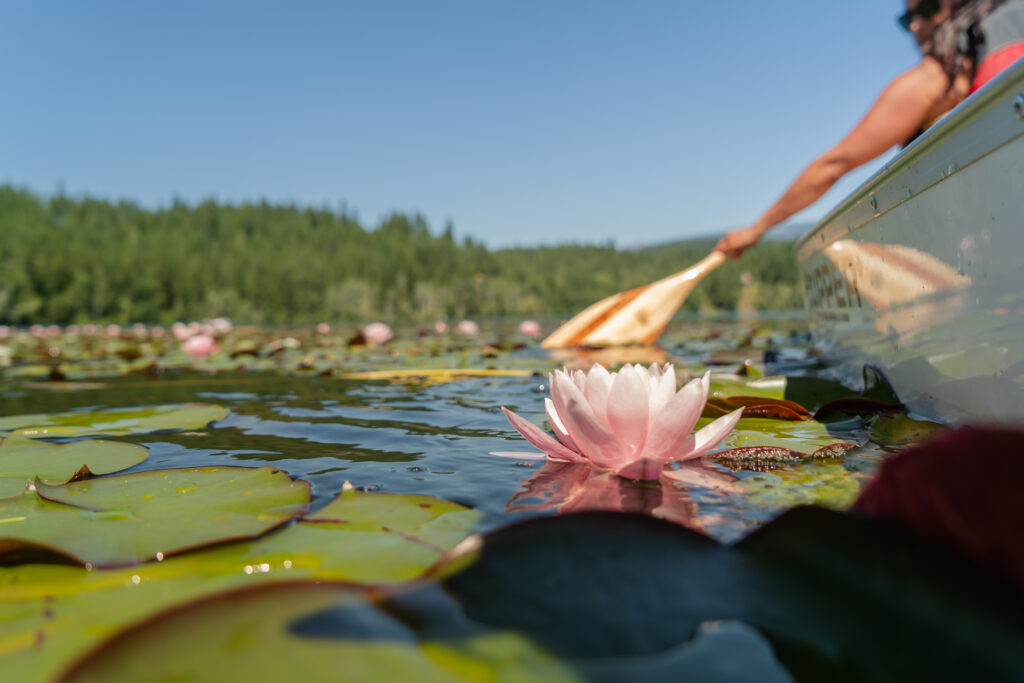 Places to Stay On the Lake: Dutch Lake Resort, Jasper Way Inn, The Lake House
Places to Stay Nearby: Stoneshire Guesthouse, River Rock Guesthouse, Ace Western Motel, Best Western Plus Gateway To The Falls, Wells Gray Inn, Garden View Cottage Bed and Breakfast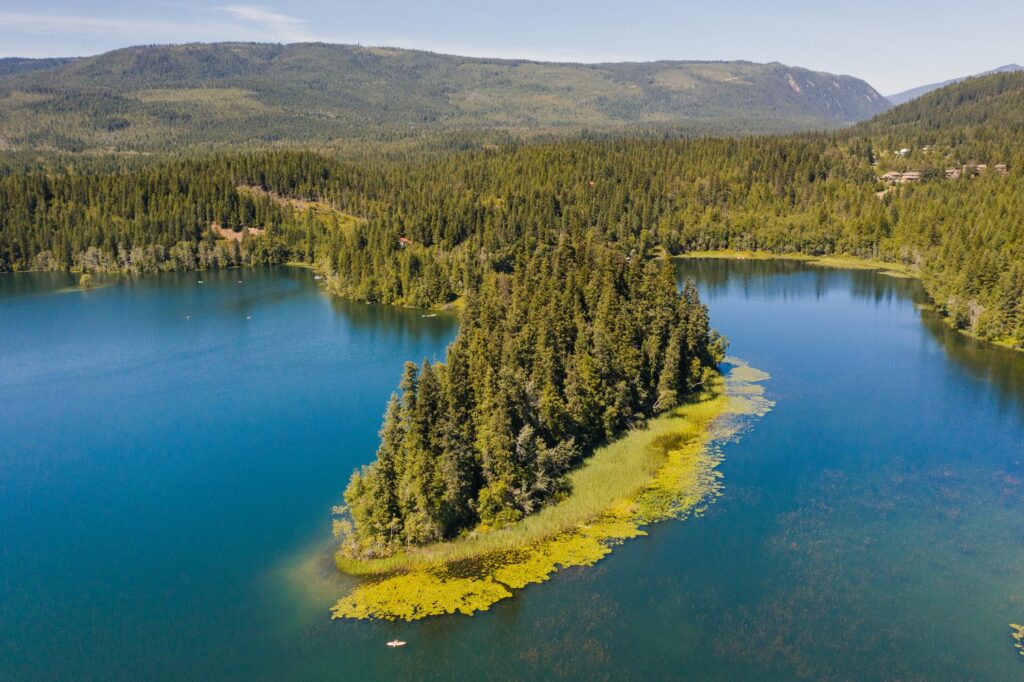 LOWER NORTH THOMPSON VALLEY
10. Johnson Lake
Often referred to as the "Caribbean of the North," Johnson Lake features water so clear that you'll think you're in Bora Bora or the Maldives! The turquoise colour is a result of runoff from nearby melting snow on the mountains, as well as an underground spring filtered by limestone. Activities at Johnson Lake include fishing, paddling, and swimming (although it is a bit chilly!), however, there are limited facilities. With only rough logging roads to drive in, no parking lots, no beach areas, very few areas to camp, and zero boat or large RV access, this is an isolated wilderness lake with a fragile ecosystem. Visitors must be extremely respectful when visiting. Visit our responsible travel page for more information.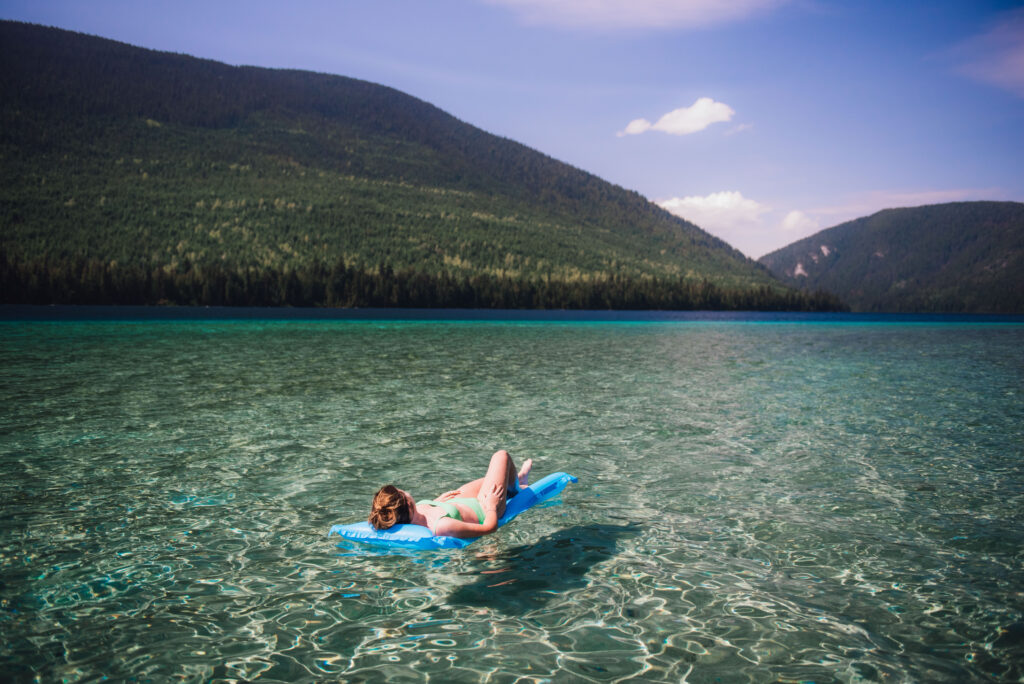 Places to Stay Nearby: Rainbow Trout Resort (on its own lake), Monte Carlo Motel, Mountain Springs Motel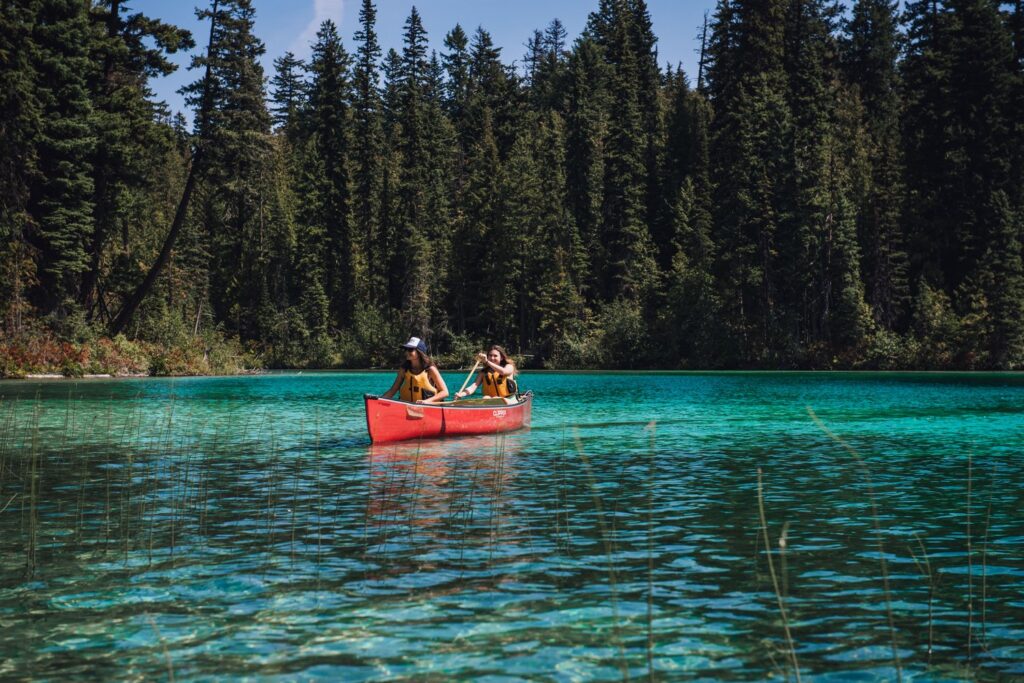 11. Adams Lake
Located just east of Barriere and close to the Shuswap area, Adams Lake is a huge lake that's average depth ranks 6th in the world! Surrounded by forests of aspen, birch, willow, Douglas fir and cedar, this lake and Provincial Park offers windsurfing, waterskiing, and scuba diving, as well as the more typical lake activities. Along with some camping facilities, enjoy the long shorelines perfect for days spent relaxing.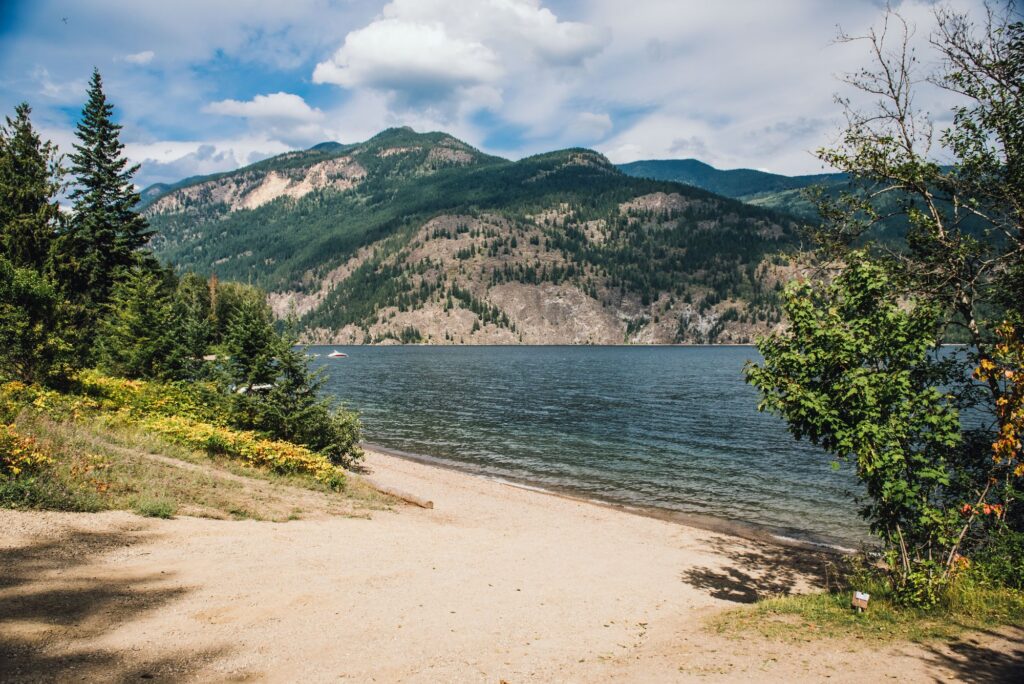 Places to Stay On the Lake: The Point Resort & Marina
Places to Stay Nearby: Knouff Lake Wilderness Resort (on its own lake), Hitch n Rail Resort (on its own lake)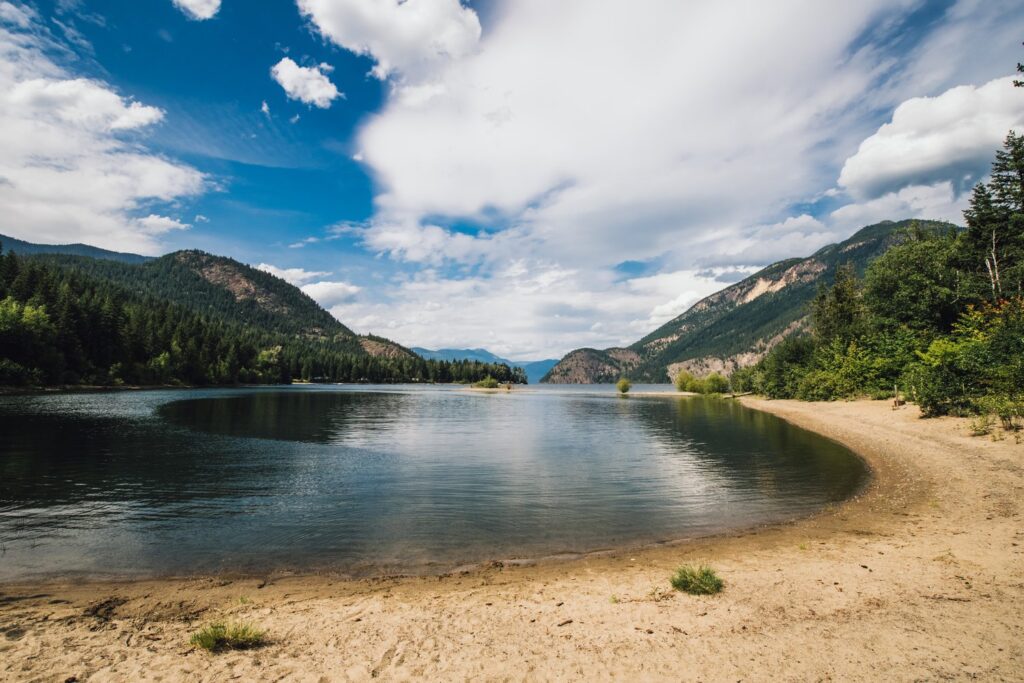 KAMLOOPS
12. Kamloops Lake
Despite being the largest body of water in the Kamloops area, Kamloops Lake is technically not even a lake! While you'd never be able to tell from the shore, it's actually just an extremely wide and deep section of the merging North and South Thompson Rivers. Ideal for cooling off during those 30+ degrees (86°F) summer days, activities at Kamloops Lake include boating, paddling, and swimming. A highlight is Bruker Marina, where you can spend the day hanging out at the beach or renting a boat to get out on the water. Visit our rentals page for more information.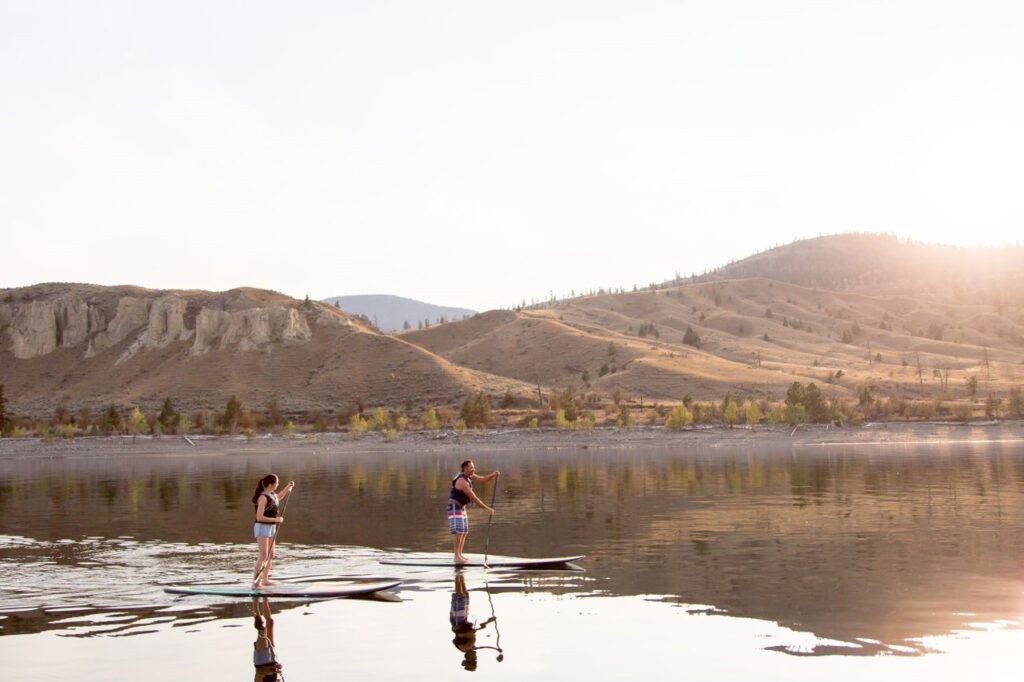 Places to Stay On the Lake: Lakeside Country Inn
Places to Stay Nearby: Other Kamloops Accommodations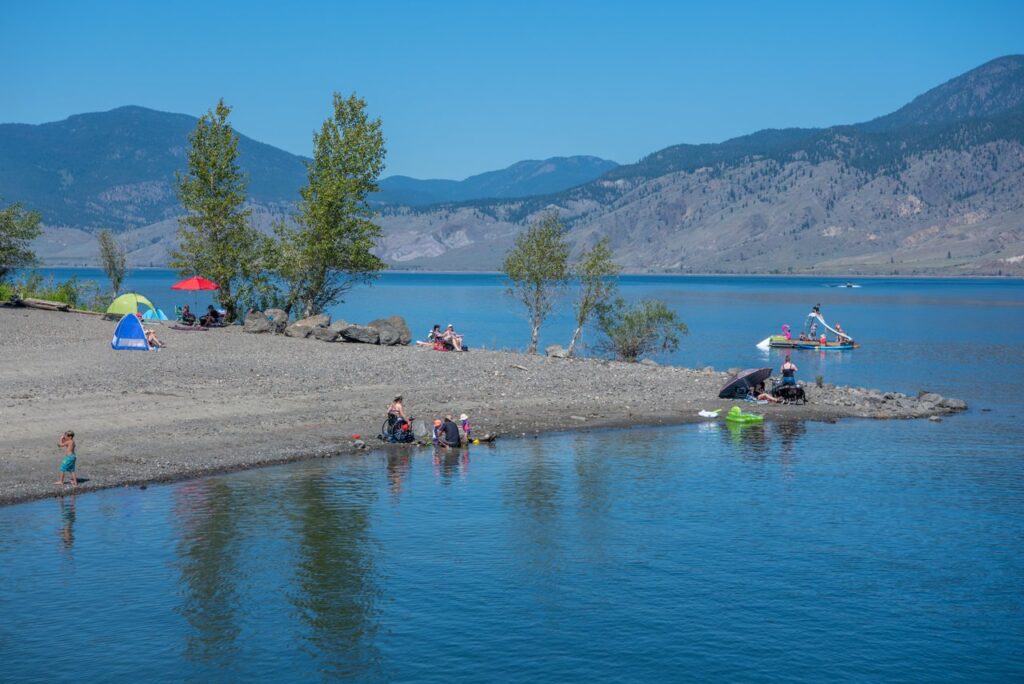 For more information, visit our ​​Lakes & Swim page, Rafting, Paddling, & Boat Rentals page, Responsible Travel page, and take a peek at our 5 Ways to Enjoy the Water in BC's Best-Kept Freshwater Secrets story.