A place where memories are made, bonds are strengthened, and peace is found, there's something unequivocally Canadian about a cabin on the lake. And if there's anywhere that knows this best, it's the region with thousands of lakes and the highest density of lakefront lodges in British Columbia, the Land of Hidden Waters. From rustic, off-the-grid heritage cabins to luxurious chalets and everything in between, BC's Land of Hidden Waters is the go-to for a memorable and oh-so-Canadian lake escape.
From South to North, here are 22 of our favourite lakeside lodges you should visit in 2022:
1. MILE HIGH RESORT, LOGAN LAKE
Open year-round, Mile High Resort is a bustling family holiday spot. Choose to camp or stay in one of the 8 deluxe and 6 heritage cabins. If you have kids, be sure to visit the small animal farm, playground, and general store. You can also partake in the invigorating 3-hour hike around the lake or even rent a canoe, kayak, paddleboard, or boat!
2. KNOUFF LAKE WILDERNESS RESORT, HEFFLEY CREEK
Just 40 minutes from Kamloops, Knouff Lake Wilderness Resort is a 4-season resort located on the picturesque Sullivan Lake. Established in 1904, Knouff is one of the oldest resorts in BC, however, in 2020, the resort was purchased by the Collins family who have breathed fresh air into the historic establishment. Choose from RV and tent sites as well as 11 cozy and charming cabins – some of which are original, authentic log cabins!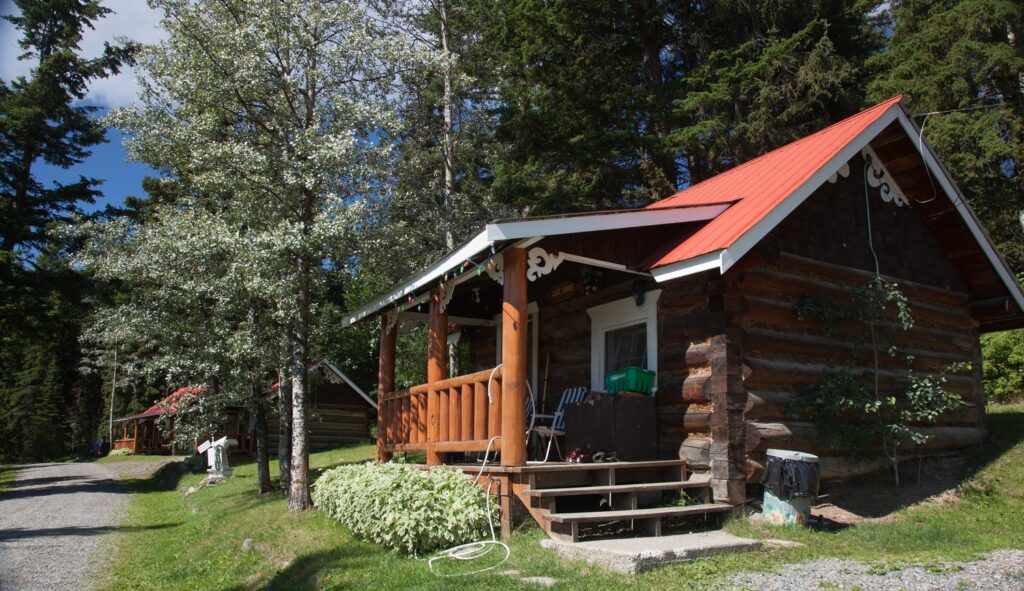 3. SKITCHINE LODGE, BONAPARTE PROVINCIAL PARK
Hidden within Bonaparte Provincial Park, overlooking the striking Skoatl Point volcanic plug and Dagger Lake, is Skitchine Lodge. Completely relax thanks to the full-service facilities and exceptional meals by an on-site chef, Terri Bowles. Spend your days fishing and exploring one of the 15 privately managed lakes or just waste the day away on a Muskoka chair with a drink in hand.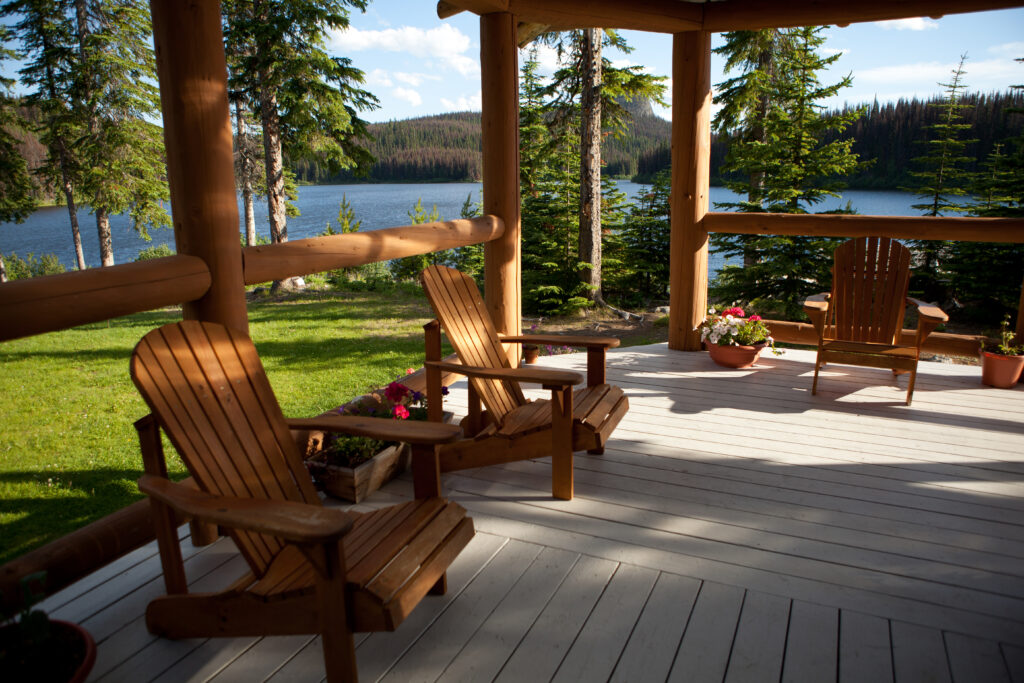 4. SPRUCE WILDERNESS LODGE RESORT, BONAPARTE PROVINCIAL PARK
Located within BC's renowned Bonaparte Plateau, and directly on the shores of Bonaparte Lake, Spruce Wilderness Lodge Resort is a remote resort perfect for anyone seeking the peacefulness that comes with wilderness isolation. With no cell service, solely generator power, and a long service road to access, this resort will have you forgetting about the stresses of city life and instead reconnecting with what matters most – your loved ones and Lower North Thompson nature!
5. BARE LAKE WILDERNESS LODGE, BONAPARTE PROVINCIAL PARK
Isolated on the shores of the remote Bare Lake, access to this Wilderness Lodge comes in the form of a helicopter or hiking. Ideal for corporate retreats, family reunions, experienced fishing groups, or just those wanting to escape from the nuisance of daily life, this resort has everything you need for a secluded and peaceful stay – even a wood-fire heated hot tub overlooking the lake!
6. WOLF VALLEY GUEST RANCH, BRIDGE LAKE
Dedicated to sustainability, a stay at Wolf Valley Guest Ranch will leave you feeling invigorated and reconnected. Being off the grid, you'll have the chance to turn off your devices and instead enjoy a gentle canoe on Tashinka Lake, nap on the deck, family-style meal, or visit with their adorable Highland Cows.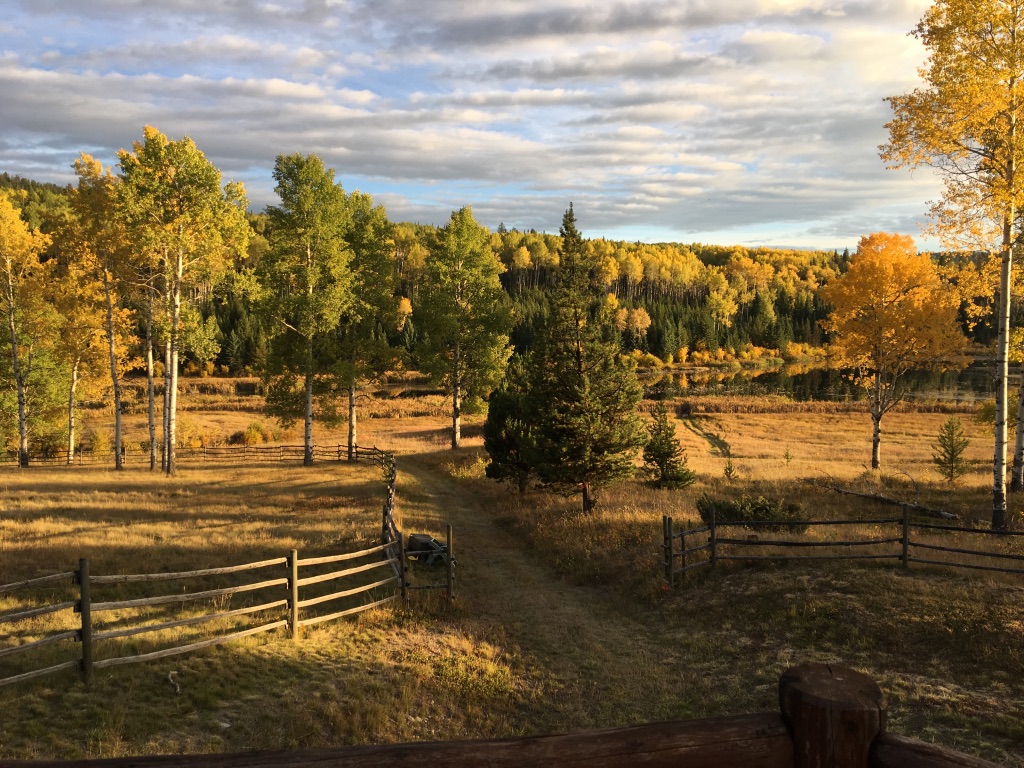 7. EAGAN LAKE RESORT, BRIDGE LAKE
Offering cabins and campsites that wrap around the shores of pristine Eagan Lake, this family-friendly resort features warm hospitality and a casual, uncomplicated atmosphere. Swim and fish by day and enjoy the peaceful tranquility of nothing but loon calls by night.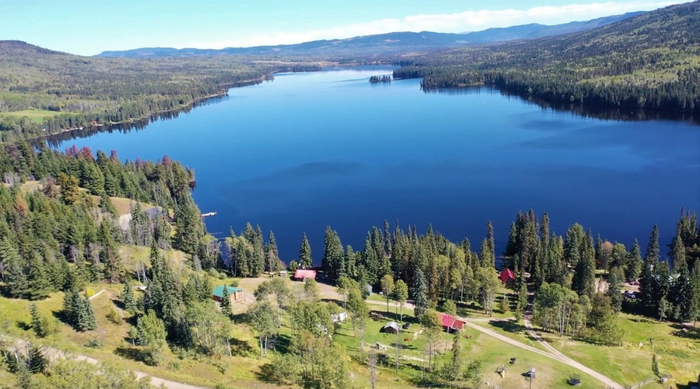 8. THE FLYING U RANCH, 70 MILE HOUSE
Built in 1849, Flying U is believed to be the oldest continually operating guest ranch in Canada. A stay on this 60,000-acre property promises tons of western fun in the form of horseback riding, delicious family-style meals, and s'more campfire evenings. With Green Lake directly on its doorstep, you can also expect lots of time on the water whether it's swimming, kayaking, or water skiing!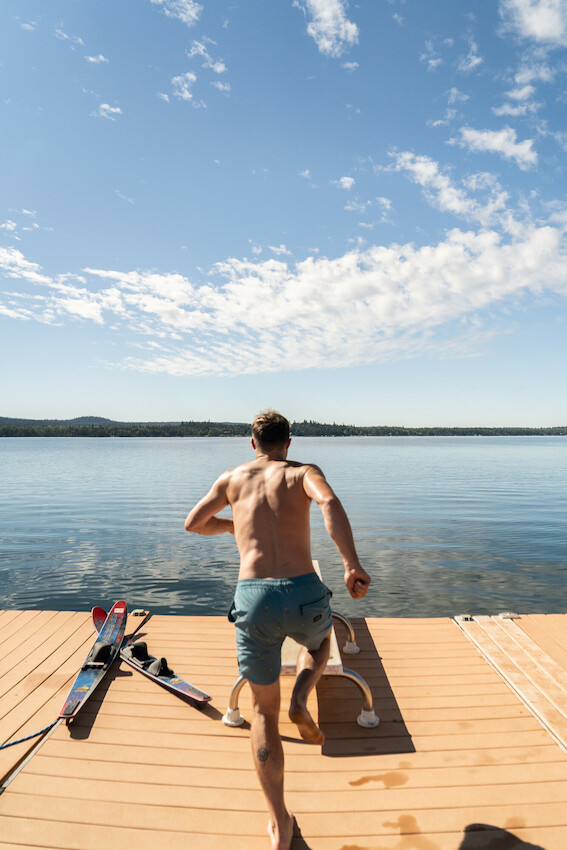 9. THE RUSTIC RESORT AT THUYA LAKES, DARFIELD
Uniquely perched between two picturesque lakes, the Rustic Resort offers more than just rustic charm! A family-friendly style fishing lodge with a casual and quaint ambience, the Rustic Resort is great for those looking for an affordable and fun fishing experience. Dog friendly as well, be sure to add Rustic Resort to your family bucket list.
10. WATCH LAKE LODGE, 70 MILE HOUSE
Since 1950, the Horn family has been welcoming guests at Watch Lake Lodge. As a working guest ranch, you'll have the chance to go on trail rides and visit farm animals. This simple, yet welcoming lodge sees generations of families coming back to enjoy its wide-open space and Cariboo kindness. Who knows, maybe your family will join them!
11. EAGLE ISLAND RESORT, BRIDGE LAKE
Dubbed as one of the best camping resorts in the area, Eagle Island Resort has been described by visitors as stunning, friendly, clean, and affordable. Perched on the shores of Lac des Roches, this resort is great for big groups, even offering cabins as well as RVs that you can rent per night. Enjoy the spectacular docks, moore your boat, or rent a pontoon, canoe, SUP or kayak for a few hours!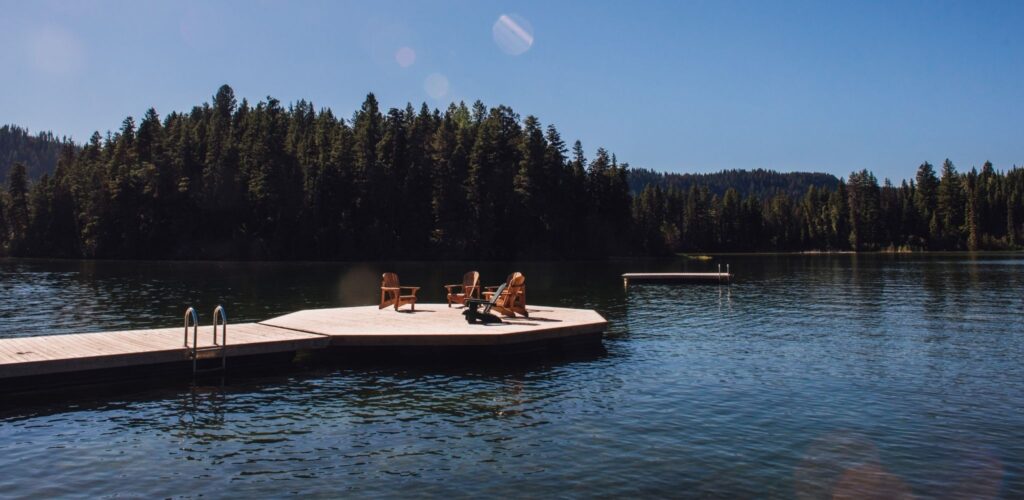 12. PEACEFUL COVE RESORT, LAC DES ROCHES
As the name suggests, Peaceful Cove Resort is a serene lakefront oasis. Although better suited for adults looking for tranquillity, hiking opportunities, and of course great fishing, the resort is also home to a water trampoline and slide that will be sure to keep the kids entertained for hours!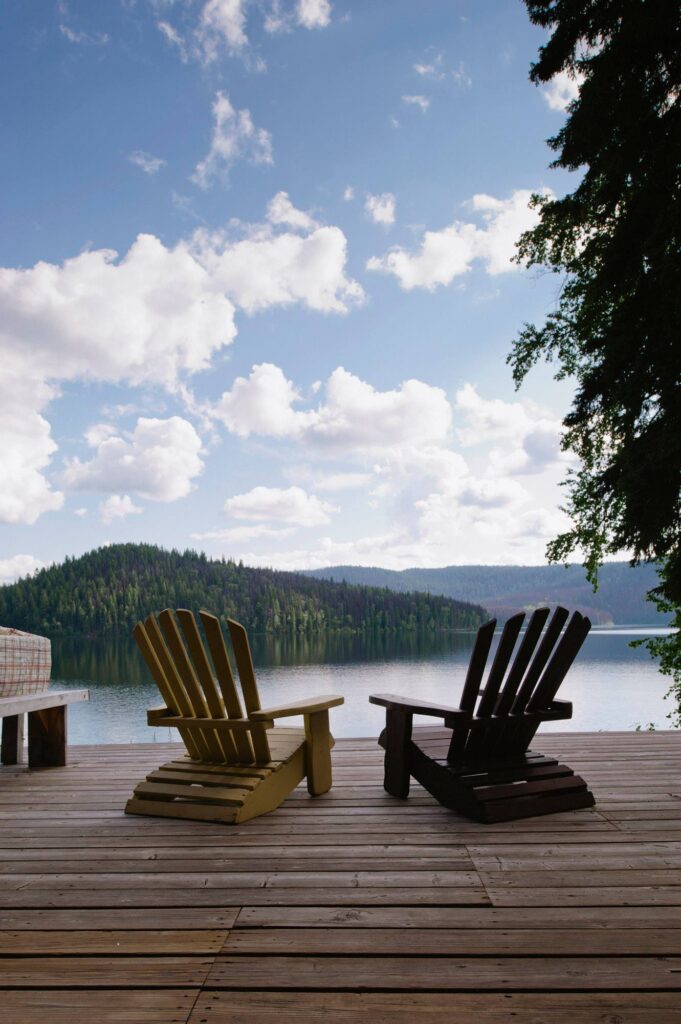 13. WETTSTONE GUEST RANCH, BRIDGE LAKE
Wettstone Guest Ranch, located on the beautiful Henley Lake, is a family-owned and operated working ranch that offers chalet, cabin, guest room, and RV site accommodations. Along with hosting fun, family events, and exceptional trail rides, this year-round oasis takes full advantage of the lake by offering canoe and kayak rentals as well as frozen sleigh rides in the winter.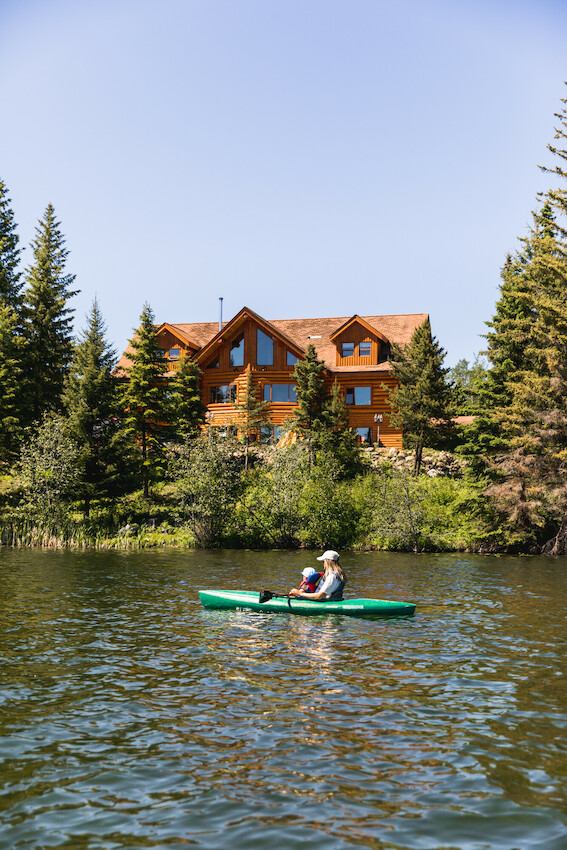 14. PINEY POINT RESORT, LONE BUTTE
As one of the largest lakes along Fishing Highway 24, Sheridan Lake is a go-to spot for summer fun! And while there are a few different resorts on the lake to choose from, Piney Point has been a staple since it opened in 1965. Offering a mix of luxurious lakefront chalets with full kitchens, as well as rustic cabins, and serviced RV sites, Piney Point Resort has something for every type of traveller.
15. LUCKY STRIKE RESORT, LONE BUTTE
Boasting consistent 5-star reviews, Lucky Strike Resort is loved for its laid-back atmosphere, spacious campsites, and beautifully designed chalets. Along with boats, a canoe, and paddleboards you can rent for use on Wilson Lake, they even have on-site ATV rentals to explore the acres of trails.
16. ALPINE MEADOWS RESORT, CLEARWATER
Alpine Meadows Resort sits within a secluded and lush mountain setting (also overlooking the pristine Hallamore Lake!). This upscale resort balances luxurious log cabin aesthetics with down-to-earth lake living. Extremely clean and welcoming, a stay at Alpine Meadows Resort promises a blissful and relaxing stay.
17. LOON BAY RESORT, LONE BUTTE
Offering breathtaking lake views as well as endless summer and winter activities, Loon Bay Resort is the perfect spot for both a large family gathering or a small intimate escape. Whether you want to fish, boat, or paddle, Sheridan Lake is big enough for everyone to enjoy. Challenge your family to a game of horseshoes in the afternoon and then finish the evening by stargazing up at the unpolluted Cariboo skies. You can even bring your furry friends here!
18. FAWN LAKE RESORT, LONE BUTTE
Known for its wide array of wildlife such as beavers, otters, and birds, Fawn Lake Resort is a quaint, clean, and cozy vacation spot. The lake is small and extremely quiet (other than the beautiful loon calls!), so it's better catered to those who prefer canoeing or paddleboarding rather than jet boating. Wake up in your rustic cabin and drink your morning coffee on the lawn just mere steps from the lakeshore.
19. CARIBOO BONANZA RESORT, LONE BUTTE
Just as fun as the name suggests, Cariboo Bonanza Resort is often described in its raving reviews as comfortable, pristine, and welcoming. Surrounded by a spectacular forest of pine, spruce, fir, and aspen and perched on the edge of Horse Lake, this resort is ideal for family getaways. Enjoy multiple docks with rentals and moorage available, as well as clean, charming cabins, and full hook-up camping sites. Cariboo Bonanza Resort is somewhere guaranteed to produce lifelong memories.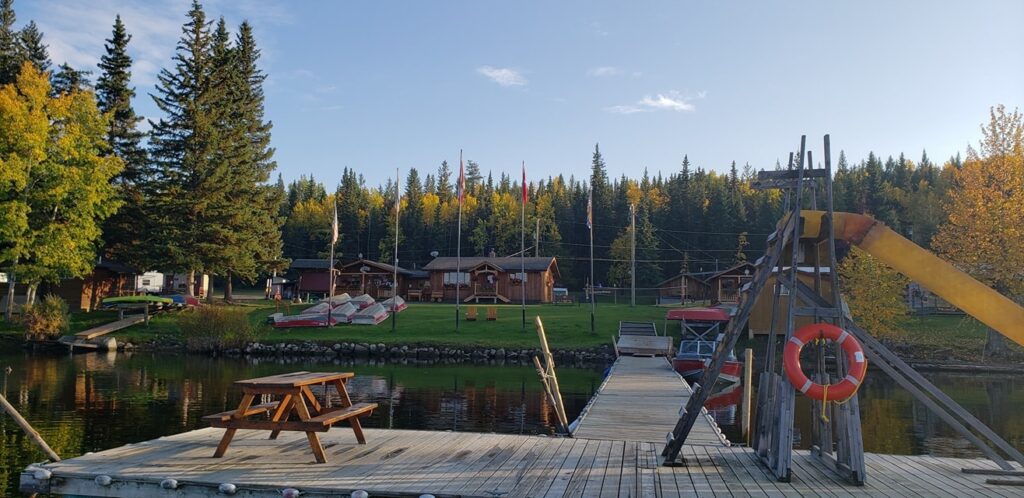 20. DUTCH LAKE RESORT, CLEARWATER
Dutch Lake Resort is an Instagram-worthy retreat that seamlessly balances lakefront living with in-town convenience. Swim or rent a canoe to go check out Dutch Lake's abundance of delightfully pink water lilies. Or visit the Painted Turtle and indulge in an alfresco meal overlooking the water. With such close proximity to Wells Gray Provincial Park, you can also take an afternoon or full-day trip to some of the country's most exceptional waterfalls and hikes.
21. REYNOLDS RESORT, CANIM LAKE
A resort just bursting with energy and a sense of community, Reynolds Resort should be what comes to mind when you think "fun in the sun" this summer. From cabins with kitchenettes to lakefront RV camping, Reynolds is well versed in providing care-free vacations. Kids will love the pirate-themed docks, games room, and playground, while parents will have just as much fun playing horseshoes and bocce ball! Along with paddleboards, canoes, kayaks, and fishing boats, you can even rent a pontoon or speed boat perfect for that family lake day party you've been dreaming of!
22. RAINBOW RESORT, CANIM LAKE
For another option on the fabulous Canim Lake, check out Rainbow Resort. Since 1992, the Rainbow family has been welcoming guests to its 1140 ft (347 m) of lakeshore. With rustic cabins, lake view campsites, a marina, and lots of boat rental options, you'll be set with everything you need for an epic summer trip!